Fountains are a great addition to any property!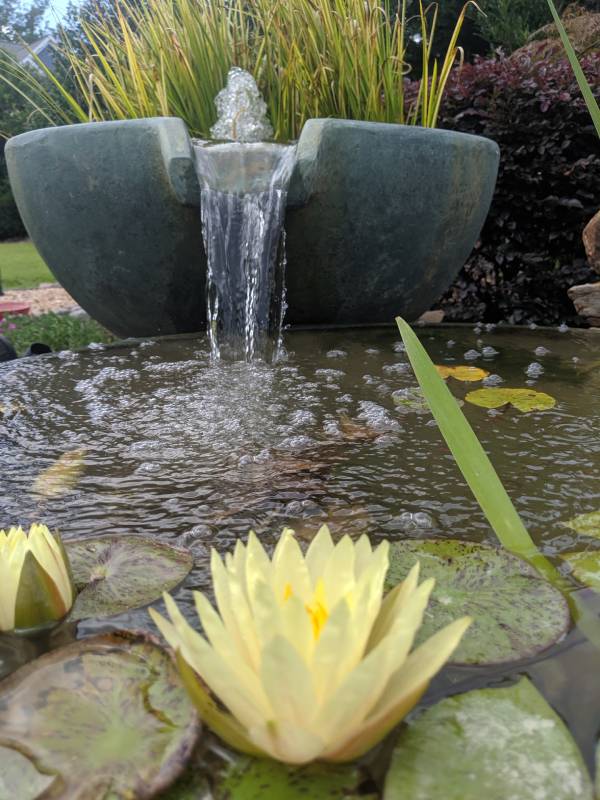 When you want your landscaping to have a little something extra, fountains are a great option for you to consider. Large or small, the right fountain can be just the addition you need to make your Raleigh, North Carolina area property unique and special. Here at Just Pondering, we have a variety of fountains that we can use, whether within your landscaping, on a back deck, garden path or near the entrance to your property.
Our variety of fountains makes it easy to find one that will suit your style as well as your maintenance abilities for fountains. Our fountain styles include options like bubbling urns that are peaceful and enjoyable to watch, spitters, stand-alone fountains, container water gardens and more. No matter what type of fountain or style that you are looking for, we can help you choose the one that can help give some timeless elegance to your property.
Once you have selected your fountain for your property, let our expert team here at Just Pondering take care of the installation and further maintenance needs that you might have. Because we have been working with water features for over 12 years, we are well-equipped to handle any questions or concerns that you might have about having a fountain on your property.
Here at Just Pondering, we want to help you with all your water feature needs to make your yard a peaceful and enjoyable place to be. If you would like to learn more about the types of fountains that we have or how you can incorporate one into your own property, please give us a call today!
FAQs About Outdoor Fountains
At Just Pondering, our team wants every homeowner to have a landscape they love. If you're looking for a unique way to add more visual interest to your yard, an outdoor fountain can easily enhance your current landscape design. However, we recognize that you may have several questions before you decide to invest in a fountain, so we've done our best to respond to some common queries below.
Are outdoor fountains difficult to maintain?
Not at all! Fountain pumps rarely need cleaning, and you can keep the exterior parts of your fountain clean using a soft cloth and a mild, eco-friendly cleaning solution. However, if your fountain doubles as a birdbath, you may have to change the water and thoroughly scrub the inside of your fountain more frequently.
What kinds of outdoor fountains are there?
No matter what kind of style you prefer, there's a fountain design out there that you're sure to love. From elegant, tiered fountains to minimalist wall fountains and quaint pond fountains, there are plenty of options to choose from. Plus, if you're not sure where to begin, our team would be more than happy to provide some recommendations based on your current landscape and design preferences.
How much does professional fountain installation cost?
The cost of installation depends on the size and complexity of the fountain, plus any extra features your fountain may require, such as a water purifier. However, we're proud to offer a one-year installation warranty in addition to the fountain manufacturer's warranty, so you can count on us to provide unparalleled service. Simply reach out to our friendly team today to learn more!