Let us help you transform your yard into something unique, serene, and beautiful.
Perhaps you've walked past a neighbor's or friend's yard and been captivated by a stunning water feature of sorts. Water features can be quite captivating with the calming sounds of the gurgling water and the serenity of the design. With our water feature installation services here at Just Pondering, you, too, can have a beautiful and serene water feature for your own Raleigh, North Carolina home.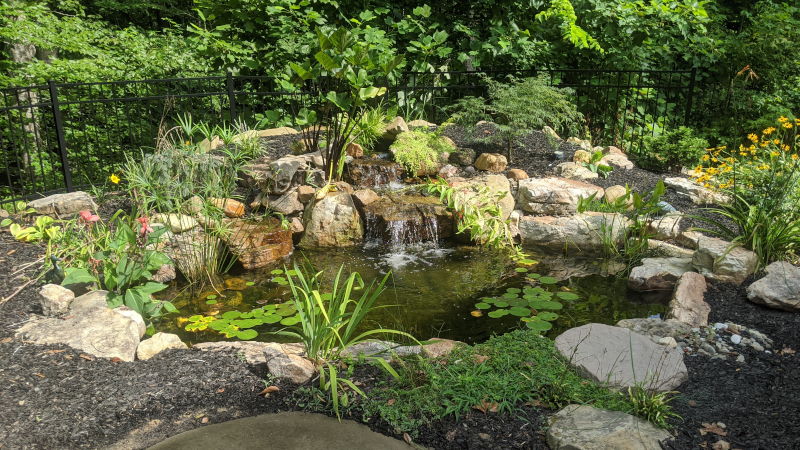 With our water feature installation services, we can install anything from ponds to waterfalls and everything in between. We love to create water feature designs that will seamlessly transform our clients' yards into the serene and beautiful oasis they deserve. If you can't find a water feature design that you like, then we can also work with you to create a custom design that will be beautifully unique to your yard. We can also help you determine which water feature design will be best for you in terms of appearance, maintenance requirements, and all that is involved. Perhaps a koi pond or pondless waterfall is best for you because the koi can help with maintaining the algae in the ponds or because no water will be collecting or attracting insects at the bottom of the waterfall.
Our water feature installations will include only the best brands for the materials used to ensure that you get the highest possible quality for your water feature and installation services. We also offer a one-year warranty in addition to the manufacturer's warranty, so you won't have to worry about any future issues. We will be sure to give you only the best possible water feature at a reasonable price.
Transform your yard into a unique and tranquil oasis with a lovely water feature. Give us a call to schedule our water feature installation services today.
---
At Just Pondering, we offer water feature installation services in Raleigh, Cary, Apex, Holly Springs, Chapel Hill, Durham, Wake Forest, Morrisville, Garner, Clayton, Fuquay-Varina, Louisburg, and Wilton, North Carolina.