Enjoy the calming nature of a koi pond in your own yard.
If you are looking for a more variable and luxurious landscape for your Raleigh, North Carolina area property, Just Pondering would love to talk with you about our variety of water features. When you add water features to your property, you add not only visual interest, but also a calming, peaceful presence to your landscaping. There are many different types of water features that you can add to your property, including the enjoyable and popular koi ponds.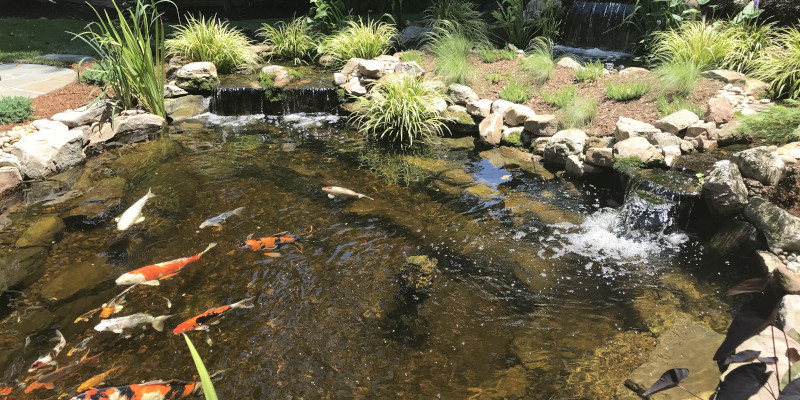 Koi ponds are ideal for many different types of properties and are also great for maintenance of your ponds, since koi naturally snack on the algae that provide fertilization for aquatic plants. Whether you choose a larger pond or a smaller one, a koi pond can turn any space into a tranquil, relaxing oasis in your own backyard.
We work often with both Atlantic and Aquascape brand equipment because they have proven themselves consistently to provide the quality that we need for our clients. We offer a variety of sizes, our most popular being  8' x 11' and 11' x 16' ponds, so you will be able to choose the best fit for your space. We provide custom water garden creation to fit the unique space and style of your backyard. Our prices are very reasonable for the high quality and installation that you get with koi ponds, starting at $5,500.

If you are looking for a way to add peaceful style and tranquility to your Raleigh property, we invite you to consider the addition of a koi pond. Contact us today to learn more about water features like this one today.
---
At Just Pondering, we build koi ponds in Raleigh, Cary, Apex, Holly Springs, Chapel Hill, Durham, Wake Forest, Morrisville, Garner, Clayton, Fuquay-Varina, Louisburg, and Wilton, North Carolina.
Similar Services We Offer: