Our pond services also include repairs and maintenance.
When you have a pond on your property, you can enjoy the many benefits that come with this addition. A pond can promote feelings of tranquility and peace among those who sit beside it, and it can add value and visual appeal to the property. Along with the benefits, ponds come with some necessary maintenance tasks, including cleaning out the water regularly. But since people keep getting busier, finding the time in your already crowded schedule to clean out your pond every month or two can feel impossible. This is where we come in at Just Pondering. We're a full-service pond contractor offering a range of pond services to help property owners maintain their ponds.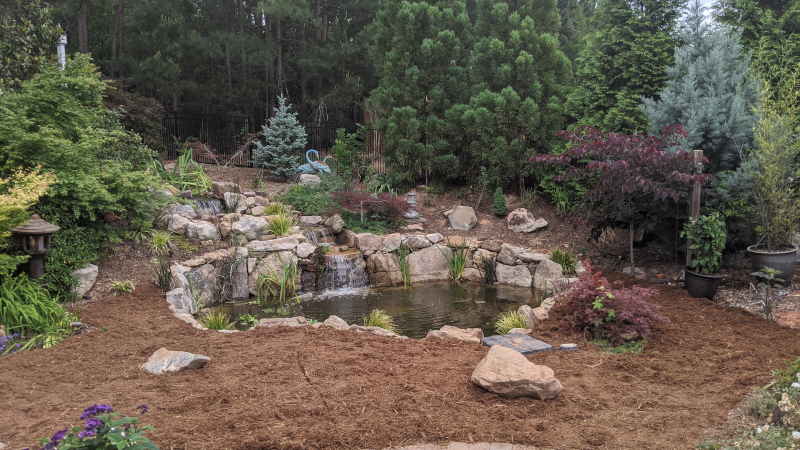 Many of our clients rely on us to provide pond clean-out services on a regular basis. We can come to your property seasonally to remove any yard debris and grime from the water. Our pond services also include repairs and maintenance. If you're dealing with a problem with your current water feature, we can diagnose the issue and perform a repair to get things flowing once again.
In addition to pond maintenance, we're available to provide pond construction for those who don't yet have ponds on their properties. All of our pond services are provided by experienced and trained technicians who know how to handle a wide range of needs. We also provide excellent customer service to each of our valued clients, and we offer an additional one-year warranty on water features on top of the manufacturer warranty. If you're in or near Chapel Hill, North Carolina, you can count on us for all your pond needs.
---
At Just Pondering, we offer pond services in Raleigh, Cary, Apex, Holly Springs, Chapel Hill, Durham, Wake Forest, Morrisville, Garner, Clayton, Fuquay-Varina, Louisburg, and Wilton, North Carolina.