Koi ponds provide a resort-like environment full of tranquility and relaxation.
Depending on the type of koi, you could be looking at a sizeable investment to have these wonderful creatures at your Apex, North Carolina home. You wouldn't want to risk their health by cutting corners on their habitat. At Just Pondering, we create amazing koi ponds where koi can thrive throughout the year.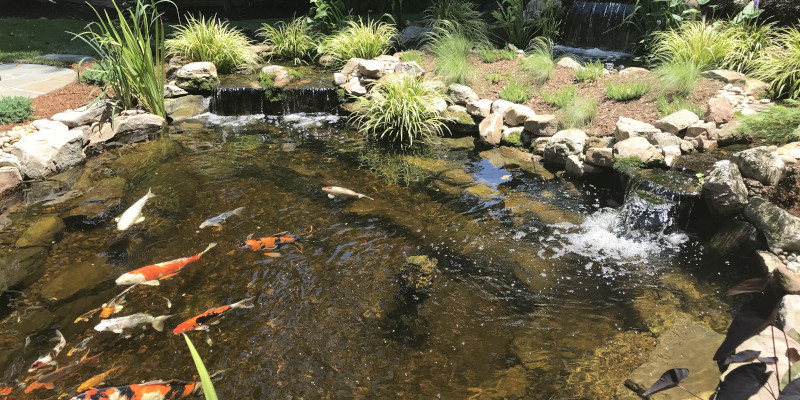 Our koi ponds are created using high-quality equipment from Atlantic and Aquascape. Our most popular sizes are 8' x 11' and 11' x 16', but we offer other sizes as well. The goal is to create a custom water feature that is enjoyed by both the koi and your family. We will help you with the selection based on the space you have available and other criteria you have in mind.
It is important to note that our koi ponds are far superior to DIY options you'll find at big box retailers. We create beauty that is unsurpassed and looks completely natural at your home. The quality of this type of outdoor water feature space is such that you will have added significantly to the value of your home with an investment that begins at just $5,500. Not only do koi ponds add financial value, they also can do a great deal for your family's overall health and wellbeing. Having a place that you can experience tranquility lowers stress levels and makes everyone happier and healthier overall.

If you would like to have a vacation location right in your backyard, koi ponds will give you that resort-like feel. Contact us today to get a quote for this valuable addition to your home.
---
At Just Pondering, we build koi ponds in Raleigh, Cary, Apex, Holly Springs, Chapel Hill, Durham, Wake Forest, Morrisville, Garner, Clayton, Fuquay-Varina, Louisburg, and Wilton, North Carolina.